- Your Doorway to Erotic Adventure -
For couples seeking a walk on the wild side, or a romantic, private evening away from everything, Mon Chalet is the adult lifestyle resort where fantasies really do come true. We offer a wide variety of rooms with amenities to accommodate, not only your wildest desires, but also, your budget.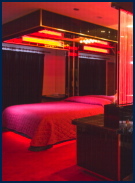 From our Standard Suites to the Deluxe Suites, every room is equipped with a remote control television featuring regular cable and our special erotic (XXX) channels; twelve (12) in total and all exclusive to Mon Chalet. These features, along with large, well-placed mirrors surrounding our king sized beds make our adult resort unique. You also have the ability to choose additional features from our selection of suites, including decorative fireplaces, the "Swing", whirlpools and our famous "Love Machine". We are confident you will find the right combination of special amenities to make your stay everything you could imagine. No matter if you are timid or wild, novice or experienced with adult lifestyle resorts, Mon Chalet is the place "Where Fantasy Becomes Reality!".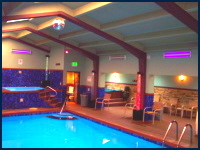 For guests seeking to interact with others, our clothing optional pool area offers a unique opportunity to enjoy a swim, or unwind by soaking in a hot tub. Naked or in a swimsuit, the choice of attire is up to you. Indoors, heated and totally enclosed, the pool and hot tub area is great for meeting new friends, or relaxing in one of our two large hot tubs. In addition, we offer a limited number of swimming passes that allow couples to enter our clothing optional pool area, and enjoy the atmosphere.
So, whether it's a romantic getaway for just the two of you, or a swinging couple looking for others in the lifestyle to join them, Mon Chalet is your resort destination, catering to every lifestyle, taste and budget.